Vacuum Tray Dryer are used where heating and drying are essential parts of manufacturing process in industries such as Chemicals, Dye stuff, Pharmaceutical, Food Products, Colors etc. Vacuum Tray Dryer is suitable for drying of thermal sensitive material easily deteriorated under higher Temperature. It eliminates configuration damage of the drying materials.
Bodies may be of cylindrical or rectangular cross section. Both shelves and body are heated (the body to prevent internal condensation) with controlled circulation of hot water, steam or dia thermic fluid. Vacuum is drawn through large diameter ducts to minimize pressure drops and produce minimum working pressures. Both rotary and static dryers can be supplied with the following Optional ancillaries.
Application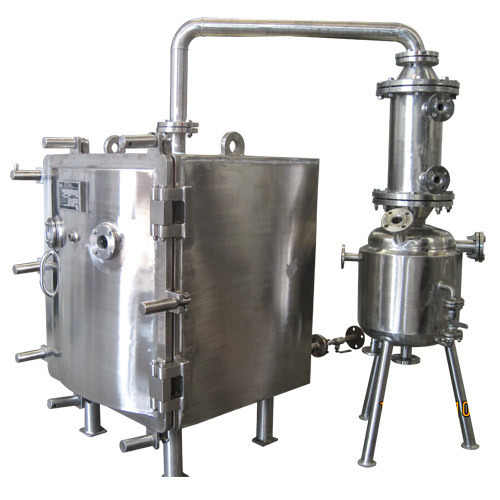 VTD - Vacuum Tray Dryers are used to heat and dry material under vacuum drying and drying materials due to high toxic contents, nature, heat sensitive. Vacuum Tray dryers use for API pharmaceutical, Herbal, chemical & foodstuff.
Vacuum Tray Dryer is a static type of dryer used in various industries under vacuum atmosphere to dry temperature sensitive materials as well as pharmaceutical and allied products. It gives complete drying and vaporization of moisture of the product. We at Bhagwati Pharma are manufacturer of Vacuum Tray Dryer. The vacuum tray dryers are been customized according to the clients specification and the available capacities ranges from 6 to 96 trays per batch.
They are suitable for various purposes that includes pharmaceutical, Herbal, chemical & foodstuff.
Vacuum Tray Dryer works on the principle of conduction considering the vacuum conditions. There are several shelves placed under which products are placed. Top shelves gives proper heating and helps to prevent dried powder from escaping into the solvent extraction system. Baffles are been placed between the shelves. It contains an inlet and outlet nozzle both are connected to its own header throughout its own nozzle
Advantages of the Vacuum tray dryers:



Efficient heat sensitive



Drying of Materials in Containers


Lower Drying Temperature than Standard Dryers


Faster Drying due to Large Surface Area


Comparatively Dries Large Moisture than Normal Dryers


Gives High Quality Dried Material


Stainless steel construction (SS 316L/316/304)


Removable Hollow Pad Type Heating Shelves


Dedicated Circulating Systems & Fluid Heating


Thermal efficiency Range - 60% to 80%


Provision for Explosion Vent / Rupture Disc on body & Validation Port on Body


Chamber provided with Vacuum break Valve


Qualitative Interlocking for Doors to Chamber


Uniform Heating Flow


Branded Immersion Heaters


Heavy duty MS / SS Door Fitted on Hinges


For Large Models – Single & Double Doors


Complete Automation w/ PLC controls (Optional)



Technical Specification

Vacuum Tray dryers – VTD

No. Of Trays
3
6
12
24
36
48
96
Capacity in Kg
3-5
12-18
25-35
50-75
75-100
100-150
200-300
Tray volume in Ltrs /Capacity in Kg
5/1-1.5
10 /2-3
10/2-3
10/2-3
10/2-3
10/2-3
10/2-3
Tray size : L W H in mm
406x406x31
812x406x31
812x406x31
812x406x31
812x406x31
812x406x31
812x406x31
No. of Heating Shelfs
4
7
7
9
13
17
17
Shelf size in mm
430x430
430 X835
835x835
835x1259
835x1250
835x1250
1250x1650
Distance between shelves in mm
100
100
100
100
100
100
100
Trays on each self
1
1
2
3
3
3
6
Condenser
0.2m2
0.5 m2
0.75m2
1m2
1.5m2
2m2
3m2
Receiver
10Ltrs
25 Ltrs
50 Ltrs
75 Ltrs
100 Ltrs
150 Ltrs
250 Ltrs
H.W. Distribution Pipes
1½"
1½"
1½"
1½"
1½"
1½"
2"
Door Gasket (Silicon)
16mmSQ
16mmSQ
16mmSQ
16mmSQ
16mmSQ
16mmSQ
16mmSQ
No. of Door Bolts (Φ40)
4
6
8
10
12
12
14
Design Temperature : 1500C, TESTING : The vacuum dryer shelves are
hydro-tested 5 Kg/Cm2 in Assembled condition. The vacuum chamber is tested for full vacuum.

Optionals Futures We Offer:






Movable Heating Shelfs unit system fitted on Stainless steel S316 Trolley and external Trolley shall be SS304 .


Condenser and Receiver in SS 316 instead of SS304.


Vacuum chamber on Limpet coil


Insulation on the vacuum chamber outer surface except door. The insulation is enclosed and covered with
removable SS 304 panels


Skirting/Wall panel all along the body/vacuum chamber flange


Steam heated Hot water system with tank (Insulated), Stainless Steel 304 Steam Radiator and Electrical heaters,
pump with FLP Motor and controls for Circulation.