Application & Process:
The Ribbon Blender machine or Mixer operates raw materials mixing powder or granules of Pharmaceutical Materials, Crystalline, Insecticides, Pesticides, and Food industry and heat sensitive products. Ribbon Blender is used many industries for mixing and drying powders such as food powder, carbon black, granules, pellets and various other solid forms , Customer many different industry customer with many application for ribbon type mixer and blender machines such like:
| | | |
| --- | --- | --- |
| Pickle | Food Product | Powder Blending Equipment |
| Talcum Powder | Industrial Powder | Spice Blender for Tea Manufacturer |
| Powder And Granules | Wall Putty | Detergent Powder Manufacturer |
| Pesticide Powder | Horizontal Mixer With Agitator | Cattle Feed Manufacturer |
| Spice Powder Mixing Equipment | Food Ribbon Blenders | Agro Food Manufacturer |
| Masale Ribbon Blender and Mixing Machine | Industrial Mixers And Blenders | Fertilizers Manufacturer |
Ribbon Blender Working Principle:
The Stainless Steel RIBBON BLENDER is an best efficient and versatile product blending machine for mixing of dry granules & powders homogeneously. Approx two third of the product volume of the container of Ribbon Blender is filled to ensure proper mixing materials. ABFRB Ribbon Blender gives best super result for mixing of product like dry powder & granules due to the design and shape of the materials mixing ribbon and product container.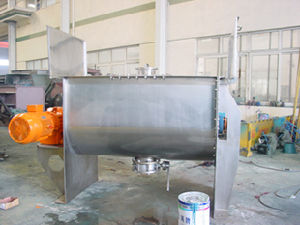 Product Material should be charge from the top side. There are Open lid or port/ports should be provided on the top cover to charge the product material as well as for air vent. Our blender machine with One discharge valve provided at the bottom side at centre of the container. The blender machine discharge height could be adjust as per the customer requirement, so that product material gets discharge in the other container directly or fixed screw transfer or vacuum transfer systems optionally extra so that product material handling time for discharge is nil and the operation is dust free.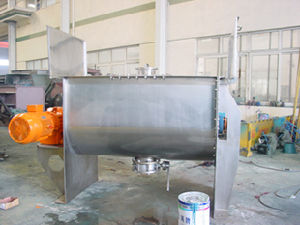 Ribbon Mixer Blender:
In Ribbon Mixer Blender machine the powder moves from centre to the end of container and end of container to the centre of container or bins. Requirement of total mixing time is very less and the RPM required are also very less , The intense mixing movement shortens the time of mixing, faster and more efficiently. Even if the material has a specific gravity.
The product material gets sufficient continuous movement due to the U shape & movement of multiple ribbon & U shape of the container, which moves material for good quality of product blending and discharge from bottom .Machine with heavy duty worm reduction gear box with belt drive with motor, blender with couple drive gears to main ribbon for mixer stirring. blender Container with Bottom materials discharge valve & Top cover provide.
Ribbon type Vacuum Mixer Dryer is best suitable for materials / products mixing and drying the which can not operate at low Temperature for special nature of products. machine with low Temperature with under vacuum to get best result with minimum time.
The blender unit is consist of electrical motor, worm reduction gear, belt drive or heavy duty chain between motor and gear, couple drive between gear to ( ribbon ) mixing stirrer. Product Container having four nos. of legs with discharge valve & top cover of machine, Both end of mixing shaft is sealed with bush & PTFE gland housing & safety guards are provided on all moving parts for safety.
Application / Industry Use:
Tea & Coffee
Animal feeds
Fertilizers
Chemicals
Spice blends
Bird seeds
Abrasives
Engineered plastic resins
Pesticides and herbicides
Epoxy resins
Pet foods
Bakery premixes
Eye shadow
Pharmaceuticals
Face powders
Pigments Cake mixes
Plastic powders
Carbon black
Fire retardants
Polyethylene
PVC compounding
Cleaning compounds
Instant breakfast cereals
Dietary supplements
Instant drink blends
Talcum powders
Dried food products
Laundry detergents
Ribbon blender During the rotation of the stirrer, Sanitary design-heavy gauge, stainless steel construction. As the product gently moving while the ribbon stirrer rotates, the large heating surface area presented by the internals of the cylindrical shell ensures uniform drying of the product. A fresh layer comes into mixing ribbon unit with contact indirectly heated walls of the shell when the diffusive action is induced by the mixing stirrer mixing constantly.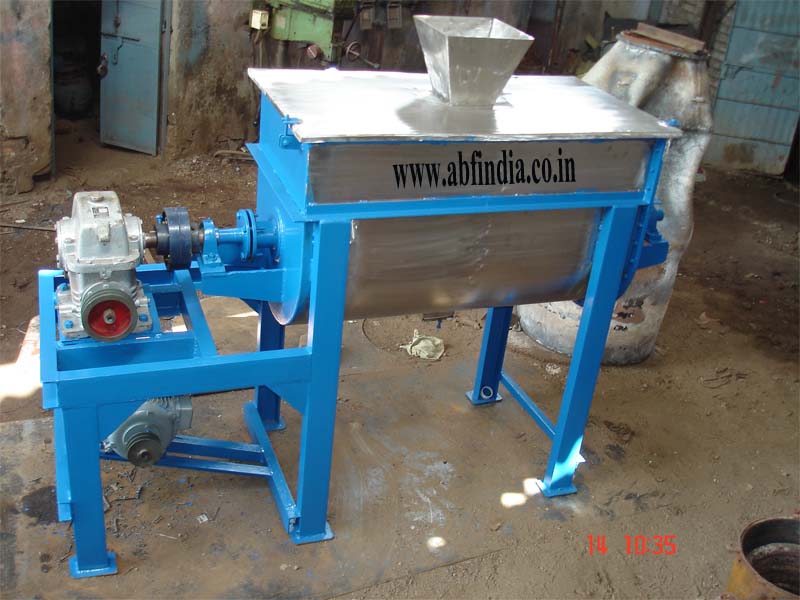 Optional Features :
Charging Option:

Product materials Loading & Unloading by Product container with trolley.
Products Vacuum conveying transfer system.
IPC / Bin loading.
Two Type designed of shell 1. Cylindrical type and 2."U" shape.

Variable speed for product container by VFD.
Lump breaker unit.
Advance PLC Controls with HMI touch screen,
Flame-proof motor and Push Button station.
Optionally - Inline milling and loading with vacuum powder transfer systems.
Powder Vacuum loading facility for material charging.
Dust free closed system in Bin charging
Option of 21cfr part 11 compliance control system
Slow speed Blender with Gentle blending of Dry granules and powder
Zero Jerk Load as machine is both dynamic and statically balanced
Pneumatically actuated valves for dust free transfers
Bins with Level sensory for automatic cut off
Mechanical Seals on shafts for Pneumatic connections
Validation Document – DQ , IQ , PQ , OQ and manual provide on additional extra cost.
We at Shree ABFRB is Manufacturing for powder processing industries specially designing as per WHO, GMP, USFDA (U.S. Food and Drug Administration ), MHRA – (Medicines and Healthcare products Regulatory Agency ) , TGA (Therapeutic Goods Administration ) and GMP norms and requirements., specialized in Mixers, Blenders and Dryers mainly for Pharmaceuticals, API, Bulk Drugs & Intermediates, Food Processing, Cosmetics and Chemical process industries, Pharmaceutical Formulation and Bulk drugs ,Eg. Sustain Release, Enteric Release Coating on tablets , Organic and Inorganic chemicals , Agrochemicals and fertilizers , Nutraceuticals' and Biotech Products, Speciality chemicals , R & D Institutes and colleges etc.
Safety Features :
Capacity Available from 10 kg to 10,000 kegs
For Jacketed mixer with Temperature controls, and Over voltage load protection with Emergency stop.
Heavy duty Design is cGMP- Current Good Manufacturing Practices compliance.
All contact parts stainless Steel 316 or 316L & non contact parts AISI 304.
Continuous rotation of ribbon blade, material will make continuous movement motion in the container and reach to uniform mixing and drying at low temperature
Dust free operation.
Quick and Fast and uniform mixing & draying at low temperature.
Blender with Rapid & discharge / Zero hold-up after discharge
Heating media can be used steam/ hot water / hot oil.
| | | | | |
| --- | --- | --- | --- | --- |
| Model | Total Capacity - Liter | Working Capacity- Liter | RPM | Motor Rating-HP |
| ABFRB-5kg | 8 Ltr | 3-5 Ltr | | |
| ABFRB -25kg | 40 Ltr | 20-25 Ltr | | |
| ABFRB -50kg | 75 Ltr | 25-50 Ltr | | |
| ABFRB -100kg | 150 Ltr | 70-100 Ltr | | |
| ABFRB -200kg | 300 Ltr | 150-200 Ltr | | |
| ABFRB -300kg | 450 Ltr | 225-300 Ltr | | |
| ABFRB -550kg | 800 Ltr | 400-500 Ltr | | |
| ABFRB -750kg | 1100 Ltr | 500-750 Ltr | | |
| ABFRB -1000kg | 1500 Ltr | 700-1000 Ltr | | |
| ABFRB -1250kg | 1900 Ltr | 950-1250 Ltr | | |
| ABFRB -1500kg | 2250 Ltr | 1100-1500 Ltr | | |
| ABFRB -2000kg | 3000 Ltr | 1500-2000 Ltr | | |
| ABFRB -3000kg | 4500 Ltr | 2250-3000 Ltr | | |
| ABFRB -5000kg | 7500 Ltr | 3750-5000 Ltr | | |